Kate's Chronic Fatigue Syndrome Recovery -
The Power of Women's Intuition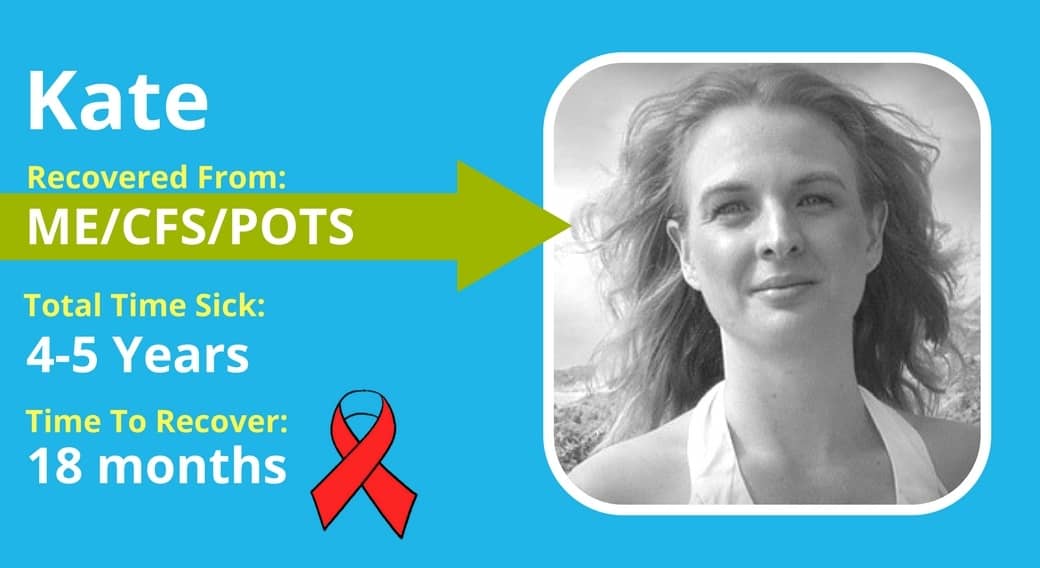 Many of us that have been ill for years, come to think that you will never get over Chronic Fatigue Syndrome.You feel like you can't find answers for CFS or M.E. .But Kate Moody shares how her intuition guided her all along to recover from CFS.
In this interview, we speak about the harshness of having CFS, how we can lose our friends during illness with Chronic Fatigue Syndrome.
Kate shares how she healed from and finally got over Chronic Fatigue Syndrome and gets a little emotional when she talks about what it meant to her to have her parents support.
15 years of pushing herself beyond her limits topped off by doing one of the most demanding treks in the world that likely triggered 2 years of low level fatigue which were then followed by 3 years of Chronic Fatigue Syndrome.
A Woman's Intuition & the Power to Recover from CFS
Here are some interesting highlights to look out for:
What is similar in your experience of the illness when you first got sick?
Did you have a strong instinct to do something – what was it for Kate – did you follow your instinct?
How much grief did you experience when you accepted and dealt with CFS?
What were 2 turning points to Kate's recovery?
Please leave a comment at the bottom of the page!
For fifteen years she lived a ceaselessly busy life, driven by a constant need to achieve and a tireless commitment to her corporate profession as a practice manager. She had lived a good part of her life very actively pursuing her life goals and being physically fit. Kate had been constantly pushing herself beyond her limits on all levels for over 10 years. She says that "Right up until I came crashing down with CFS I had been burning the candle at both ends for over a decade."
Towards the end of her corporate career, Kate started to suffer severe lower back pain and that gradually led to glandular fever, intolerances to foods, a constant sore throat and swollen glands, muscle weakness and pain, and then debilitating chronic fatigue. This resulted in her life turning upside down.
Kate's Experience of Having Chronic Fatigue Syndrome/Myalgic Encephalomyelitis
Kate experienced grief in the letting go process of losing her "independence identity", at the peak of her youth at 31 years old. She felt betrayed by her body.
During her research and efforts to understand the illness of ME/CFS, Kate came across a medical report journal where a well known CFS GP specialist writes 'people with this illness experience every day what cancer and AIDS patients who are dying experience three months before their deaths.'
She says that she could strongly relate to that statement when she was bedridden, which was for 6 months at the very beginning of the illness as well as during her crashes over the next 2 years.
"I could literally feel my organs and physical systems beginning to shut down. It was like I was beginning to rot from the inside out. I can remember thinking – okay, is this what it is like to be dying and to be facing my mortality." Kate said.
Kate found her journey with CFS to be very isolating and often lost touch with friends and family and often did not feel understood and experienced some very hurtful and insensitive comments.
Kate describes CFS as a very real, raw and debilitating illness. She explains how no one could explain why she was feeling so ill, and doctors were quick to diagnose depression and write out a script for anti-depressants. Kate declined, feeling that she did not want to hand over her personal power to medical authorities who also didn't have an understanding of her symptoms. Eventually Doctors came to realise that Kate did have CFS and not depression. She says that she whilst she was grieving for the life, she wasn't depressed and still had her sense of humour and lightness of being. She was coming to terms with a new reality.
Kate tried to push through her symptoms, like she used to before she had CFS (if she was unwell with a flu or head cold). But as she kept pushing, she kept getting worse. Her energy continued to crash, symptoms flared and she had to rest in bed for days. Her body and muscles became weaker and she lost all her physical strength and had little energy to communicate.
Kate's Recovery from Chronic Fatigue Syndrome/Myalgic Encephalomyelitis
Kate's first major step towards recovery was realising that she had to change. She says that acceptance was a major step towards feeling better, and towards recovery.
"Acceptance doesn't mean embracing your pain or identifying yourself only as a person with the illness of CFS. It means a willingness to experience pain and fatigue as a part of life, and a willingness to move on with your life even when pain and fatigue is present. Ultimately, acceptance means adapting, more or less gracefully, to the changes that chronic illness brings. Living life well with a chronic illness means nothing more and nothing less than accepting our humanity and being comfortable within our vulnerability."
For Kate, the grieving process was difficult and painful and took place for 12 months.
Kate believes that "The biggest challenge that begins to shift and lift the heavy blanket of fatigue and other symptoms of CFS, is to discover and identify what has manifested the illness within you, and if you are not getting better – What is actually stopping you from healing?"
When asked what was key to her recovery, Kate responds as follows:
"In a nutshell, what relieved and lifted the heavy chronic fatigue, strengthened my spirits and faith, brought peace, and ultimately restored my well-being was deepening my connection to God and spirituality. This part of my experience may not be shared by all CFS sufferers however, for me it is an essential aspect of finding peace in my CFS healing journey. My spirituality and relationship with God became my lifeline and compassionate understanding around illness, living, dying and hope. The other key healing approaches were also yoga, meditation, relaxation, nutrition and acupuncture. "
All in all, Kate was sick for 3 years before she claimed her recovery.
Kate Now that she has recovered from Chronic Fatigue Syndrome/Myalgic Encephalomyelitis
Kate hopes that her story can bring validation and comfort to what CFS sufferers go through , alone, behind closed doors in silence.
"I hope it empowers CFS sufferers to keep walking forward through the devastating affects of CFS and come to eventually see the gifts such an illness and recovery offers to your soul. May my story bring a deeper understanding as CFS sufferer's carers, loved ones and yoga teachers walk along side them on their journey."
Kate now resides in the beautiful Dandenongs near Melbourne, Australia – and offers restorative yoga classes for people living with CFS and 1 day workshops in 'How to Manage your Energy – keys for Radiant Wellbeing' and workshops specifically for women – Women's Menstruation and Wellbeing. She also supports on-line classes and support skype sessions for people who are bed ridden with the CFS illness, living in remote rural areas throughout Australia and around the world.
For further information, inspiration and empowerment around CFS, Kate's healing journey and her programs, visit her website – www.radiantwellbeing.com.au.
​Here are some social media images for sharing: