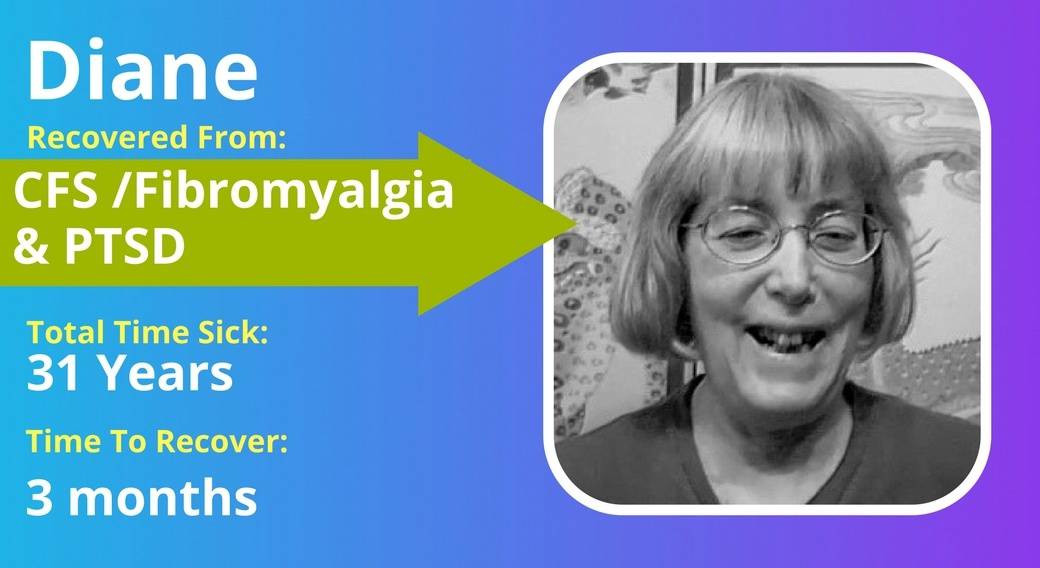 When you have been ill with Fibromyalgia and ME/CFS for a long time, it's easy to think that recovery isn't possible. This is perhaps especially the case later in life as we reach our 60s and 70s.
Some people might wonder if it's worth the effort to keep trying.  Well, Diane's experience gives us a resounding YES!
Diane recovered using the ANS REWIRE recovery program and made a full recovery after 3 decades of illness with Fibromyalgia, ME/CFS and PTSD. What makes her recovery so remarkable was the speed at which she recovered as she gave a video testimonial for the recovery program only 90 days after enrolling.
This wonderful interview is about 1 year after her recovery, where she shares her story and experience of recovery as well as the wonderful things she has been able to do since she recovered.  She is such a wonderfully inspiring lady and really shows us it's never too late in life to seize the day.
Here is her recovery interview.  Please note that she also shares her recovery in her own words below the video!
Please leave a comment at the bottom of the page!
Here are some social media images for sharing:
Here is Diane's Fibromyalgia & ME/CFS recovery story in her own written word:
After 31 years of severe illness with CFS and fibromyalgia I am happy to say that I am completely recovered. I have been well now for over one and a half years and am living a full and satisfying life.
I recovered using Dan Neuffer's ANS REWIRE program. It was a very comprehensive multi-pronged approach that included physical, behavioural and mental life changes. He presented it in the form of a series of lessons with homework at the end, and gave scientific explanations in depth of why we should do what he recommended. That really helped me with the motivation.
He also offered the first 4 lessons free in which he told his story of recovery and explained the cause of CFS, Fibromyalgia, POTS and MCS and it rang true and made more sense than anything else I had heard. I did everything he said to do and made every change and though I was living a pretty healthy lifestyle within my CFS limits there were a lot of changes to make.
When I started the program I was not as sick as I had been in previous years. At my worst (and this happened many times through the 31 years) I was couch-bound and unable to leave the apartment often for months at a time. Taking a shower was always a big deal because I was prone to faint and had to be scheduled and I used a shower chair.
I never felt well, even when resting. When I tried to do something outside the apartment I would get much worse. It would take weeks of rest to recover my former level of illness.
I had myriad symptoms:
severe fatigue, allergies that got a lot worse, new allergies with rashes and asthma, digestive problems, inability to learn new things, pain, lack of energy, no stamina, tendency to pass out, and more.
For the first 10 years I was sick I was gradually getting worse. But then it seemed to level out. Over the next 10 years I improved my diet which made me feel a little better but did not improve my functioning. I started walking as much as i could. At first it was just a few minutes but over a long period of time I worked up to 30 minutes. It was very hard but made me feel I was doing something for myself.
I tried different supplements and various recommendations and treatments including homeopathy, none of which helped and some to which I had very bad reactions. At the time I found Dan's program I hadn't tried anything new for more than 10 years. (Except Qi Gong which I had discovered 7 years before and was doing a short routine daily from a tape. It seemed to me to be subtly beneficial).
I was still reading research news from the CFIDS Association of America and they provided a link to Cort Johnson's "Health Rising". I found it to be a wonderful resource with lots of positive useful articles. And on it one day I read an article by Dan Neuffer about how he had gotten well. I went to his website and watched the free videos and felt confident that he really had had CFS and that he knew what he was talking about.
I made myself wait one day and then I signed up for his program. It is very affordable and after watching all the lessons I was impressed by how much work and research he put into the program.(Also loved his sense of humor). I started experiencing some improvement within a few weeks and within a few months felt recovered. But since then I have experienced even more unexpected recovery.
I have been practicing and playing the violin again for more than a year. I go to 2 tai chi classes a week, one long hike in the woods a week and regular daily walks. And I do some volunteer work and have an active social life. I am 71 but feel younger than I have for many years. And I feel well all the time. Even my immune system seems great. I haven't gotten any viruses though I have been exposed to many.
I can't tell you what a joy it is to be well after all these years. And I may even be healthier than I was before I got sick!