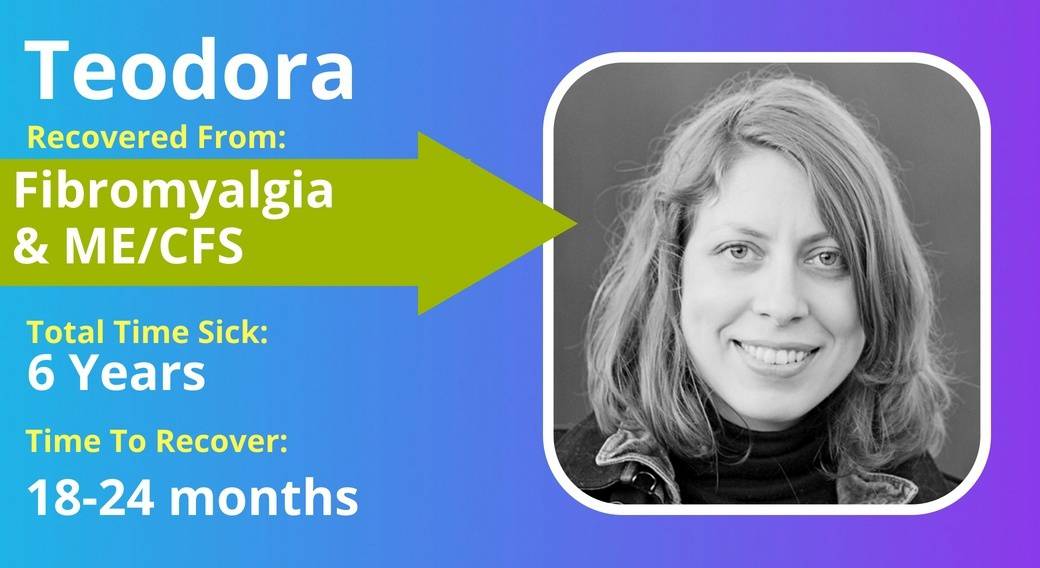 Q: Hello – thank you for sharing your story. Can you start by telling us a little bit about your experience with the illness – how long ago did you first get ill, how old were you?  How did the illness start?
A: In 2011 (at the age of 31), I began having sharp pain especially on my right side, I was feeling like an electroshock through my body. By the end of 2011, I was diagnosed with fibromyalgia by a rheumatologist and a neurologist. …after nearly a year of examinations, blood analyses and a countless number of medical consultations.
The reality is that I suffered from a fatigue since my 20's. In 2001 while being at the University for about a year and a half I felt the first symptoms of a severe fatigue. This feeling of fatigue was so unusual for me that I didn't really pay it much attention at first. Nonetheless, I remember the exact moment where I was falling asleep while being in the classroom. I was surprised but thought it would go by itself.
Q: Did anything of note happen in your life in the 12 months leading up to the illness?  Any idea what triggered your illness?
My fatigue was triggered by stressful events after I moved to a foreign country (France) to study Law at the age of 18. Unfortunately not being taken seriously and diagnosed in time made me lose precious time and chance to recover.
The fibro was a consequence of stress in work, the inability to have a normal life and relationships due to the exhaustion. I felt a prisoner of my own body but the worst was to come.
Q: What happened next?  What did your doctor say initially and what was your experience like getting diagnosed?
I went to another doctor in a despair and she said I had " fibromyalgia-like pain" she sent me to consult two more doctors, wrote them a letter and closed the envelope so I could not see what was written. She put me on painkillers immediately. It took another precious month of examinations for the diagnoses to be confirmed. I was prescribed strong medications. My initial knowledge about the illness was from forums and other places on the internet which was definitely not a good start. I believe you understand what I mean – still nowadays it is believed to be incurable…  I never accepted that fibromyalgia is incurable and that cost me some time to go research further – I feared to read again and again those negative words!
 Q: Tell us more about your symptoms – can you list what symptoms you had?  Did they change over time?
I felt something went really wrong in a short period of time.. for one night I could not move anymore.. All went really bad 2-3 days after a flu vaccination.
Before that I managed to cope with my day to day life but I had already quit my full time job, my sport club and any social interactions and so on.
My pain was sharp, located especially at the right side from the top of the head to the toes. I can qualify it as electroshock with high intensity. Along with my symptoms, I had often occurring migraines, problems with my stomach (I had an ulcer which was the result of anti-inflammatory medications and very low levels of B12 and iron which I had to address too)…
About 2 years and a half I felt this sharp pain and took Tramadol in order to have a few hours of sleep. Tramadol at that point was my only "saver" as I refused the anti-epileptic medication or the anti-depression medications. I just couldn't bare anymore to be numbed. I lost all faith in modern medicine and at some point realized I had to take my condition in my own hands.  During this period of time I read as much as I could on the subject but felt particularly overwhelmed.
 Q: What was the worst part about your experience with the illness? What was your low point and most difficult things to deal with?
At 31 I went back to my home country (Bulgaria) leaving my whole adult life of 11 years behind. Now I consider that this move saved my life.
It was the lost of autonomy and the incapacity to react that affected me the most….the feeling that I was starting again from nothing, that I literally lost everything. Back then I was thinking that I was a failure. But then I had no other choice than seeing my illness as an "opportunity"; to grow, to known myself, to learn something different and new that I liked (it was a short photography course). When I was at my lowest and most painful days I just listened to music. Focus on something else was a huge relief for me.
It can be very painful to hear someone doubting your illness.  Seeing me doing well, my own mother said to me last summer that maybe I was not even ill all these years. If someone takes something for my story let it be this; "Do not allow that kind of words to hurt you and penetrate you. Find a meaning in your suffering and grow stronger from it, leave those comments behind."
Q: BEFORE your turning point, did you try a lot of treatments? What was your success in treating your symptoms?
I tried holistic approach, I tried nearly everything that was recommended, all my savings and even more went away. I tried a lot of supplements and I had great results with Malic acid and Magnesium. l tried the Guaifenesin protocol and it helped me in terms of energy.
Near my home, there is a thermal bath accessible for everyone at a small price that relieved me from pain when it was the most unbearable.
Q: So what was your turning point?  What happened?
Things did not suddenly turn around. I came to the realization that I have the responsibility of my own health and wellbeing.
I corrected my nutrition – the best effect on my pain relieve was when I stopped consuming diary, processed food and too many cooked foods. Today I eat whole plant based food. At the beginning when I could barely leave my bed, I managed somehow to start juicing and I added greens in powder form.
Simultaneously I met a good manual therapist, I went to a psychological support too and little by little I started to have some strength and faith. I read your book – CFS Unravelled on Kindle, which was a huge help to understanding this condition. I began doing stretching, Yoga and meditation.
The truth is I met a lot of obstacles on my way to recovery, I was criticized and attacked, even by doctors, but at the end what matters is the result I had for my body and mind.
For me, it was a long road and a full time job to recovery. It's a sum of all my actions and efforts that made me recover.
I went back to a part-time job in 2013. My son was born in September 2015, since then I moved again to another country but this time with my family and started full-time job for a few months. At the moment I aspire being my own boss so changes are still to come.
Q: What do you think was the most important part of your recovery?
I wanted to come back to my authentic self, and I wanted a family. The most important part of my recovery was never accepting another solution that 100% healing and pursuing a better future for me.
Being understood by my manual therapist and accepted for what I was at that time, gave me a lot of strength to continue my struggle. I had the chance to meet a lot of people willing to help.
Q: Are there any special moments since you recovered where you were amazed that you could have such an experience again?  What has been the best part of recovering?
The best part is that I saw the power within me. And that I can tell to others … look what my life is now…it is even better than a "normal" life.
Q: What is your advice to others who are still looking to recover from the illness?
Recovery takes time and is possible, be loving to yourself every single day.
Please leave a comment at the bottom of the page!
Here are some social media images for sharing: